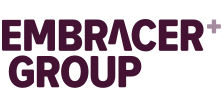 Embracer Group is the parent company of businesses developing and publishing PC and console games for the global games market. The core business model consists of acquiring established but currently underperforming franchises and successively refining them.
We embrace great people, great companies and great ideas.
The group has an extensive catalog of over 130 owned franchises, such as Saints Row, Goat Simulator, Dead Island, Darksiders, Metro, MX vs ATV, Kingdoms of Amalur, Time Splitters, Satisfactory and Wreckfest amongst many others.
With its head office based in Karlstad, Sweden, Embracer Group has a global presence through its three operative groups: Koch Media GmbH, THQ Nordic GmbH, and Coffee Stain AB. The group has eighteen internal game development studios based in Germany, the Czech Republic, UK, Finland, USA and Sweden engaging more than 2800 employees and contracted employers.
Embracer Group was formerly known as THQ Nordic AB. One of the subsidiaries; THQ Nordic GmbH shared the same name and trademark as the parent company, THQ Nordic AB (publ). The subsidiary was originally the original operating company but is currently one of several divisions. To avoid confusion and to clarify group structure, THQ Nordic AB (publ) became Embracer Group AB (publ) in September 2019. The THQ Nordic GmbH brand and company will continue to operate as a global video game publisher and developer.
The Groups' Founder, CEO and largest owner Lars Wingefors is stationed at the Groups' head office in Karlstad and has over 20 years of experience in the games industry and as entrepreneur.
The story of Embracer Group (formerly THQ Nordic) began in 2011 when the Company acquired all the franchises of the Austrian game publisher JoWooD, which was at that time a listed company that had become insolvent. A new and important chapter in the story of Embracer Group (formerly THQ Nordic ) was written in 2013 when a number of strong franchises were acquired from the American game publisher THQ Inc., which at that time had become insolvent.
Embracer Group shares are publically listed on Nasdaq First North Stockholm under the ticker THQNB:SS with FNCA Sweden AB as its Certified Adviser. For more Investor-related information, please visit: embracer.com
---